New contemporary Murano earrings - four new styles
15 February 2015
FILED IN: PRODUCTS NEWS
NEW Murano Glass Earrings. We've just added 4 new pairs of earrings to our Jewelllery Collection. They all feature handmade Italian Murano beads (our Murano 'Jewels') and showcase the best in contemporary Murano glass jewellery design.
They can be worn in their own right or as matching earrings to our Julietta, Ricci, Giola and Serafina necklace and bracelet pieces.
You can see further information and detailed pictures by visiting our Murano Glass Earring range.
We are currently finalising new necklaces, bracelets, pendants, and also some more earrings, to add to our Murano glass jewellery Collection over the coming weeks.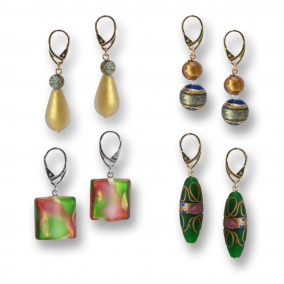 ---