We use only genuine Murano glass 'jewels', handmade by craftspeople in Venice, to create Murano glass jewellery which is authentic, individual and stylish
murano glass jewellery: top christmas jewellery gifts
A miniature work of art
Our Murano glass jewellery Collection uses only genuine Murano beads, handmade to order in Venice, as the focal point of our jewellery.
Our Murano beads (our 'jewels') are of the finest quality, with many featuring 24 carat gold and silver foils in their design.
Each one is a stunning, miniature 'work of art'!
Follow us on facebook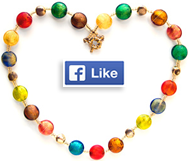 For useful info, 'Facebook only' SPECIAL OFFERS, Flash Sales, new product announcements and other promotions - only for our Facebook friends!